The following biography (covering the life of Dolores prior to 1943) was written by Dolores's daughter Nancy circa 1978.
---
"Dolores was born in Chicago on 23 Nov 1923. She was the third child as well as the third girl born to Laura and John. As Dolores grew, so did her family. She found herself an older sister to five crazy little brothers and a sister. Growing up in those days was not easy because jobs and money were hard to come by. Dolores never asked for much; she accepted the way of life that her father had given her, and eased from one day into the next. Her grades were never excellent, but then, they were good enough to allow her the privilege of residing within the Quotes of "average student". But really, what was beyond those average grades? Little Dolores, who tried to rub away her freckles with cucumber rinds, who could never understand why her name was Dolores instead of Peggy, was so often perplexed by the world that held her. Why anyone in their right mind would want a stupid baby boy running around with no diapers on was a thought she often contemplated.
She never got much time alone; there was always someone around to shatter the silence. But soon that didn't matter, for Dolores found she could tune all the external world out and run freely, with no cares or worries, in her mind. It was wonderful in there -- no matter what it was that you wanted, any color or shape or size -- you could have it. Houses, yes, how she loved houses. Beautiful houses with white wooden shutters and yellow daffodils and orange geraniums everywhere. There was a special house though, a house no one else knew -it was Dolores's house. It was magnificent, and she knew it, every square inch. All the furniture matched, and the walls matched the rugs and the rugs matched each other.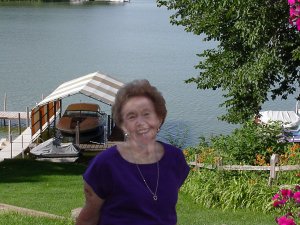 It was a white house with hot apple pies cooling on the ledges just beneath the big window that looked over a lake. Trees were everywhere, big trees that stretched their arms out over the rippling waters of the lake. And her house was quiet; if you held your breath there, you could hear the wind whisper secrets to the Willows. How marvelous life was, when you're able to dream. But Dolores was never saddened when slapped with the reality of her small bungalow and screaming brothers. She would tell them stories too of beautiful houses and cooling apple pies. She was a happy girl and easily contented."
"Dolores never dated anyone special but she dated often and was contented in the life she lived. Even while she worked at the ice cream parlor making sundaes and cones, her mind would drift far away into a world where only few lived, the lucky ones with white picket fences. And then one day it happened. While scooping vanilla into chocolate she looked up and he caught her eye. He had dark hair and tanned skin and blue eyes that almost melted the ice cream right out of the dish. She heard some of the ladies at the parlor talking about him. He was Johnnie Laurie and his aunt owned the shop; he was the kind of boy everybody liked. Before she knew it, Johnnie was driving her home in his red convertible. She had never known such sensitivity in a man; Dolores was sure this was what it was all about. She knew her prince was Johnnie. The days grew into weeks and months and then one day he gave her a ring. She was going to be his wife."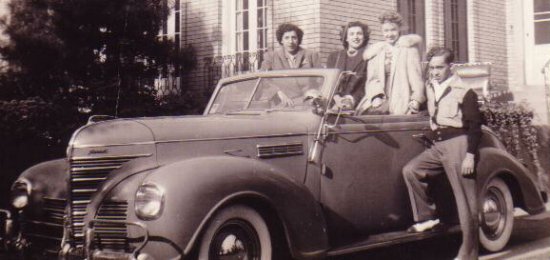 The photo above shows John Laurie standing next to his red convertible and Dolores. The girl on the left is probably John's first cousin, Anne Vignola (Cisco).236 The girl in the center "may possibly be Beverly Argenzio (Vignola)"236 who became the wife of Anne's brother, Frank Vignola. The photo was probably taken in 1942 at the home of John and his parents.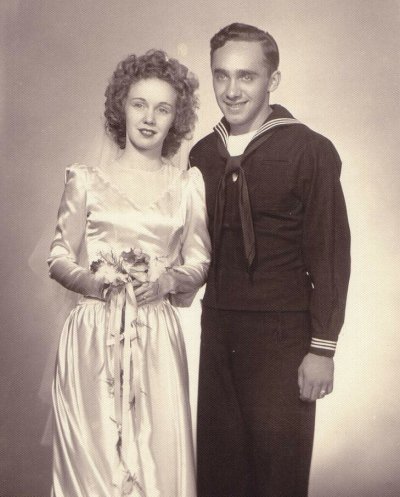 On Sat. 20 Nov 1943, Dolores married John Roger Laurie (22 Sep 1921 — 13 Aug 1984) at St. Francis of Rome Church in Cicero, IL. John was the only child of Jerry Laurie and Marie Vignola.
John's parents disapproved of the wedding of their only child and said they would not attend, so Dolores and John planned only to have a brunch at the Oak Park Arms Hotel. That's all they could afford. However, when the senior Lauries saw that the marriage was REALLY going to happen, they relented on Friday (the day before the wedding) and started to call some friends and relatives to attend a home reception at the Laurie Sr. home.236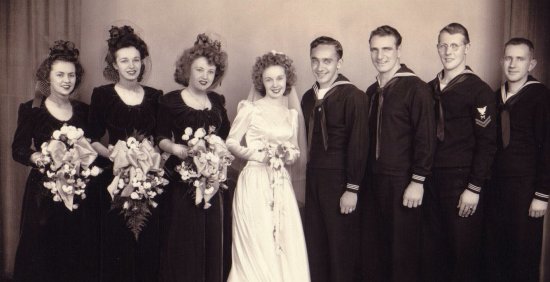 The Wedding Party
There were three young women that Dolores wanted to have as bridesmaids. From left to right they are June Kohl, Pat Tompkinson, and Veronica FitzMaurice (sister of Dolores). Pat Tompkinson was Dolores's best friend from the time they first met while both worked for Illinois Bell circa 1941. They remained best friends as long as Dolores lived. June was a cousin of Pat and was also a friend of Dolores.
Naturally Dolores and John wanted to have three sailors as groomsmen. Some of John's friends were quarantined at the last minute and could not go to the wedding. John flew up from his base in St. Louis with a good friend [name unknown] from the Navy but two more groomsmen were needed.
Veronica recruited one sailor in downtown Chicago the night before the wedding. He thought Veronica was "nuts" but he agreed to go to the suburbs the following morning for the wedding. The sailor on the far right [name unknown] is the one who was recruited by Veronica on the evening before the wedding.
Dolores's brother Tom [M2.1.5] was putting on his sea scout uniform the morning of the wedding (so it would look like all the groomsmen were Navy men) when a sailor was spotted walking down the street on his way home (which was just a block away from the church). Somebody ran out to ask him if he'd be in the wedding. He said he would have to ask his wife before he could say yes. His wife said it was okay so he appears second from the right in the photo above of the wedding party.235, 236
After the wedding, Dolores went to live with John at Lambert Field in St. Louis MO (where he was stationed).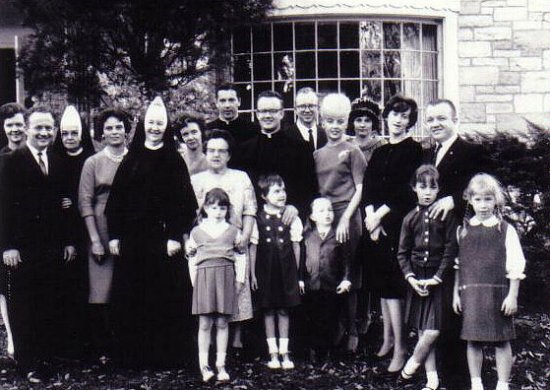 This photo was taken in the summer of 1964. The occasion was the blessing of the new home of Dolores and John Laurie in River Forest by the new priest in our family, Father Terence.
The adults (from left to right) are Loretta Martino, Francis Michael F., Sister Mary St. Mildred, LaVerne F. (wife of Francis), unidentified nun, Dolores Laurie, Laura F. (mother of Dolores), unidentified priest, Father Terence F., Loyola F., Veronica F., Patricia F. (Loyola's wife), Mary Terese F. (Emmett's wife), Emmett F.
The five children (from left to right) are Ellen F. (daughter of Loyola), Jean F. (daughter of Loyola), Michael F. (son of Loyola), Mary Anne Laurie, Nancy Laurie.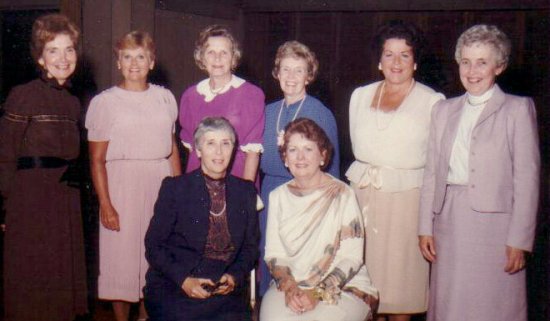 This photo shows the members of an informal group in which Dolores was active, especially after the death of her husband in August 1984. I heard firstly that it was a golfing group. More recently, I have heard that it may have been a bridge club. I have also heard it called the Winston Park group. I hope that we can speak to one of the surviving members so that we can get the facts and learn the role of this group in Dolores's social life. The women have been tentatively identified as follows:
Back row (left to right): Agnes Brock, Marilyn Caron, Marge Connolly, Dolores Laurie, Alice Murphy, Marion Braet.
Front row (left to right): Kay Barry, Rosemary Kennedy,