BERWYN ERA

John, Sr. was the cook on his shift. He enjoyed cooking and was always happy when experimenting with some new dish. We routinely ate Jewish, Polish, Italian, German, Czech, Irish, and Lithuanian dishes that most of our neighbors had never tasted. There were, of course, a few social disasters, like the time we had the head of a pig for supper on Veronica's birthday.

Although my father worked on the Chicago Fire Department for 20 years, I never saw him at a fire. Once, when I was a small boy, my Uncle Emmett took me to visit my father at the fire station. That was Engine Co. 25, then located at Canalport Avenue and Union Street (near Halsted Street). My father arranged for the Company to run a practice drill for my benefit. I didn't know it was a drill and was quite surprised. The alarm bell rang; the door went up; the fire engine with siren screeching and my father at the wheel came down the street toward me. Two firemen jumped off, hose in hand, about a hundred feet before reaching the nearest hydrant. The truck stopped at the hydrant; the firemen connected the hose, and my father was pumping water to an imaginary fire 100 feet away within 30 seconds after the alarm bell rang.

My father alternated 24 hours on duty and 24 hours off duty, with an extra day off every 2 weeks. He called the extra day off a Kelly because it was introduced by Mayor Kelly.

My father worked with a busy Company. He often arrived at work (at 8 am) and found that the Company was at a fire. He then changed to his work clothes and took a streetcar to the fire where he relieved his "partner" on the other shift.

My father often arrived at home exhausted because he had been at a fire most of the night. Only once do I remember his coming home in the middle of the day. There was a huge fire at the stockyards. As was customary on the Chicago Fire Department, they attacked the fire aggressively. They moved directly to the most severe part of the fire. Suddenly, the fire spread and my father's Company, along with several other engine companies, was completely surrounded by the fire. It took several hours before they were freed from this trap. Meanwhile, they continued to attack the fire, stopping frequently to soak each other with water in order to provide some relief from the heat. From time to time the flames reached one of the fire trucks and the other engine companies turned their hoses on that truck until the danger subsided. When the fire was over, my father came home in a taxi. Although I was very young, the sight of my father getting out of a taxi told me that something important was happening. Then I saw that he was wearing boots and his heavy waterproof work pants with heavy duty suspenders. This was without precedent. I knew it must be a momentous occasion. Fortunately, there was no injury. My mother covered his eyes with gauze soaked in Boric acid to relieve the effects of the smoke. Within a day or two, he was back to work.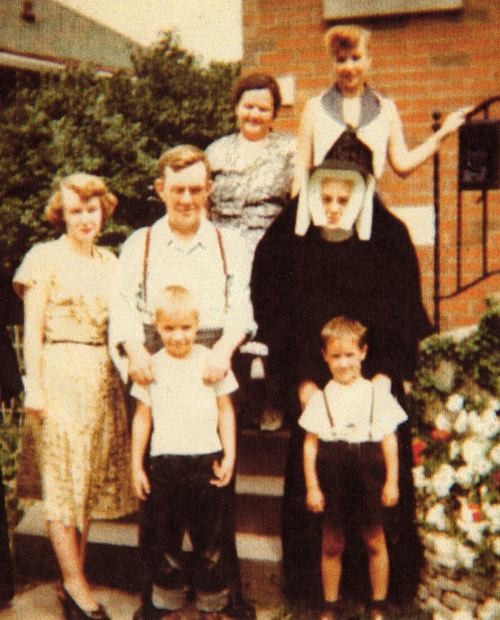 After serving 20 years on the Chicago Fire Department, our father retired circa 1949. The photo above was probably taken circa 1952. In the back row are John's wife, Laura, and his daughter Veronica. In the center row are his daughter Dolores, John himself, and his sister, Sister Mary Veronica. In the front row are Dolores's oldest sons, John and Jerry.
Our father died at home (6413 West Roosevelt Road, Berwyn, Illinois) from cancer of the esophagus at about 2 am on the weekend after Thanksgiving in 1954 (age 61). He had been a heavy smoker for many years. He almost always rolled his own cigarettes using Bull Durham tobacco.