William Fitzmaurice, 20th Baron of Kerry
(Irish Peerage)
Born 1633; died 1696 or 1697.
Circa 1665, William (20th Baron) married Constance (christened 5th Oct 1637 and d. 12 Oct 1685), daughter of William Long. William died 1710. William and Constance had issue: Thomas (21st Baron of Kerry & 1st Earl of Kerry), William of Gullane, situated near Ballybunion, Co Kerry and Capt James and daughters Hon Honora and Hon Constance.
1. Thomas Fitzmaurice, 21st Baron of Kerry and 1st Earl of Kerry (b. 1668, died 16th March, 1741 and buried 21 March, 1741 Killtomy). Married Anne Petty, the daughter of Sir William Petty and his wife Elizabeth Waller, Baroness Shelburne, daughter of Sir Hardress Waller on 14th January, 1692 and had issue:

a) William Fitzmaurice (1694-1747 in Lixnaw), 2nd Earl of Kerry. Governor of Ross Castle. Colonel in the Coldstream Guards. Privy Counsellor and Custos Rotulorum of Kerry. Married Gertrude Lambart, daughter of Richard Lambart, 4th Earl of Cavan. Had issue; a) Francis Thomas Fitzmaurice, 3rd Earl of Kerry (1740-1818) and a daughter Anna Maria Fitzmaurice who married Maurice FitzGerald, 16th Knight of Kerry. William died when his son and heir was only seven. Francis Thomas Fitzmaurice married Anastasia Daly of Queensbury, Co Galway. They had no children.
b) John Petty Fitzmaurice (b 1706 Shelburne House, Dublin and d 14th May 1761 at Lansdowne House, Berkeley Square, London). 1st Earl of Shelburne. Married Mary Fitzmaurice, daughter of Lt Col William Fitzmaurice and Deborah Brookes on 16th February 1734. Buried at Bowood, Wiltshire. Sheriff of Kerry in 1732. MP for Kerry 1743-1751. In 1751 he changed name legally to John Petty. Was created 1st baron Dunkeron. Privy Counsellor. Had issue:
a) General William Petty, 1st Marquess of Lansdowne (b 2 May 1737 and died 7 May 1805). Married firstly Lady Sophia Carteret on 3rd Feb 1765 and secondly Lady Louisa FitzPatrick on 19 July 1779.
b) Hon Thomas Fitzmaurice (b 1742) who married Mary O'Brien, Countess of Orkney, daughter of Murrough O'Brien, 1st Marquess of Thomond and Mary O'Brien on 21st December 1777. Had issue John Hamilton Fitzmaurice, Viscount Kirkwall (b 9 Oct 1778 in Denbigh, Wales and d 23rd Nov 1820.
c) Charlotte Fitzmaurice , third daughter, who married Sir John Conway Colthurst, 1st Baronet of Ardrum, the son of John Colthurst and Alice Conway. The Colthursts of Blarney Castle, Co Cork are descended from this line.
d) Elizabeth Fitzmaurice who married Maurice Crosbie, 1st Baron Brandon, son of David Crosbie, High Sheriff of Kerry and grandson of Sir Thomas Crosbie. Had issue seven children including:
1) William Crosbie, 1st Earl of Glandore,
2) Maurice Crosbie, Dean of Limerick who married firstly Elizabeth Gun and secondly Pyne Cavendish, daughter of Sir Henry Cavendish.
3) Dorothea Crosbie who married Rev Richard Pigott
4) Jane Crosbie who married Thomas Mahon
5) Ann Crosbie who married Bartholomew Mahon
6) Elizabeth Crosbie who married Lancelot Crosbie
7) John Crosbie who married Elizabeth Fisher. Elizabeth's husband Maurice Crosbie died in 1762 and was buried in Ardfert.
e) Arabella Fitzmaurice married Colonel Arthur Denny who was MP for Kerry from 1727-1742 and Provost of Tralee, son of Colonel Edward Denny and Lady Letitia Coningsby. They had no issue. Arabella was a philanthropist and founder of the Magdalen Asylum for Protestant Girls in Leeson St, Dublin in 1765. In the same year she was granted the freedom of the City of Dublin. She lived at Lixnaw Castle until her husband died in 1742. She spent her later years living in Blackrock, Co Dublin with her cousin Katherine Fitzmaurice. She died aged 85.
2. William Fitzmaurice of Gullane, near Ballybunion, Co. Kerry, Colonel in the Army, who married Deborah, daughter of Sir John Brookes, Bt. and his wife Mary Waller, a daughter of Sir Hardress Waller, a Major General in Cromwell's invasion force, at St Peter's Church of Ireland, Dublin on 25th November 1741 and had three children. By deed dated 1709 William was granted the lands of Ballyneragget, Co Kerry, formerly held by Patrick Trant by the Hollow Blade Sword Co. William died in 1711 and was survived by his widow who was recorded as living in Dublin City in 1714. Deborah Fitzmaurice died on 17th July 1751 aged 89.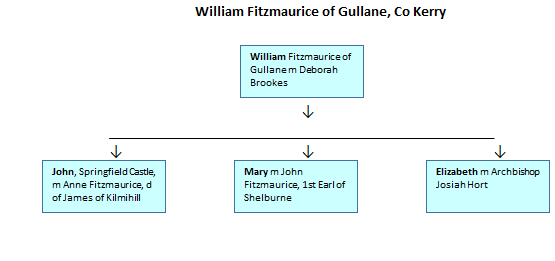 John Fitzmaurice

of Springfield Castle, Co. Limerick, who married his first cousin, Anne, daughter of James Fitzmaurice, of Kilmihill, and was father of John Fitzmaurice, of Springfield Castle, whose only child and heiress, Anne, married at St Anne's Church, Dublin on 7th June 1775 Sir Robert Tilson Deane, 1st Lord Muskerry, b 19 Oct 1745 Cork (son of Charlotte Tilson and Sir Robert Deane, 5th bt) and died 25th June 1818 aged 72. Had issue:-
a) Sir John Thomas Fitzmaurice Deane (Lord Muskerry) b 27 Sep 1777 Shropshire and d 25th December 1824 in Caen, Normandy.
b) Matthew Fitzmaurice Deane b 29th March 1795 married Louisa Dorcas Grady. Had issue: Hon Matthew James Hastings Fitzmaurice Deane b 16th Sept 1831. He married 27 Sept 1871 Maria Banbury and had issue one son Matthew Fitzmaurice Tilson Deane, 7th Baron Muskerry b 30 Jul 1874 Newcastle, Co Down. He married Mabel Kathleen Vivienna Robinson. They had issue. Matthew Fitzmaurice Tilson Deane b 31 July 1898, Majorie Maria Fitzmaurice Deane, b 9th April 1900, Victor Leslie Fitzmaurice Deane, b 26th June 1904, Hastings Fitzmaurice Tilson Deane, b 12th March, 1907 who became 8th Baron Muskerry.


Mary Fitzmaurice

, who (13 Feb 1734) married her first cousin, John, 1st Earl of Shelburne and had two children.

William Petty-Fitzmaurice (2 May 1737 — 7 May 1805), 2nd Earl of Shelburne and 1st Marquis of Lansdowne.
Thomas Petty-Fitzmaurice, of Liewenny Hall, Denbighshire
(1742 — 28 Oct 1793) (grandfather of Thomas Fitzmaurice, 5th Earl of Orkney)


Elizabeth Fitzmaurice

, who married Archbishop Josiah Hort in 1726 (b 29th Aug 1676 Swanage, Dorset and who died 14th Dec 1751 aged 45). She died 25 Jan 1745. Had issue: a)

Josiah George Hort

b 1732. High Sheriff, Kildare 1758-1761.
b)

Sir John Hort,

1st Baronet b 8th August 1735 Castle Strange. Died 23 Oct 1807 aged 72.
c)

Elizabeth Hort

b 26 Dec 1729 Derry and d 11th Sept 1778, Windsor, Nova Scotia. Married Sir James Caldwell, 3rd Baronet (Made Count of Milan by the Empress Maria Theresa). Had issue including a) eldest son Sir John Caldwell, 4th Baronet of Castle Caldwell, Co Fermanagh and Count of Milan He succeeded his father in 1884 & married Harriet, daughter of Hugh Meynell Esq & had issue a son & daughter Louisa Georgiana who m 31 March 1823 her first cousin Sir Josiah William Hort of Hortland, Co Kildare. b) Fitzmaurice Caldwell Esq who married Hannah, widow of Sir James Stratford Tuite, Bart.
d) Frances Hort b 5th July 1731 Tuam, Galway. Died 1764 Naples, aged 33.
e) Mary Hort married 17 Oct, 1764 John Cramer Coghill (b 1732 Oppland, Norway-1790). had issue one son Josiah Cramer b 1773-1850 who married Anna Maria Bushe on 27th Jan 1819 at St Peters Church, Dublin. She died 8th March, 1848 Cheltenham, Gloucestershire and Josiah died 20th June 1850 Cheltenham, Gloucestershire aged 77.


3. James Fitzmaurice, Captain, of Kilmihil, Co Clare who married Catherine, daughter and heiress of William Harman, of Derrymoyle, Queen's County and of Dublin whose will was dated 27th April, 1682 and proved 10th Jan 1684. William's only other child was a daughter who had married John Dodson but had died before her father so William left his wealth to his younger daughter Catherine. William's father was Edward Harman and his father's brother was Sir Thomas Harman of Athy, MP who commanded Sir George Wentworth's troop in the Athy area in 1643 (the brother of Sir Thomas Wentworth, 1st Earl of Strafford who was executed by Charles 1). The Harmans were connected with Carlow at least as early as 1639 when Thomas Harman Esq sat as MP for the borough. The name 'Harman' was passed down through successive generations of the Fitzmaurice family. James and Catherine were recorded as living at Bannagh, Co Kerry in 1720 & 1724. Hon Captain James died before 1749 when his widow advertised the lands of Derrymoyle and the colliery for let. In 1749 Hon Mrs Catherine Fitzmaurice widow and relict of Hon Captain James was recorded as living at Bowensford near Charleville, Co Cork (reference Pue's Occurrences of 21st February 1749)

Ann Fitzmaurice born on Thursday, .. March, 1699. The witnesses were Dady Kerry, Lady Crosbie and Sam Morris Esq. She married firstly John Odell, the son of John Odell and Hon Constance Fitzmaurice, a daughter of William, 20th Baron of Kerry and his wife Constance Long and had issue:
a)

Thomas Odell

who married Constance Fennell, eldest daughter of Robert Fennell of Curraghbowen in 1742 (no issue). He was Captain, Limerick Militia d 1761-63. marriage settlement deed dated 7th June, 1742.
b)

John Odell

d ca 1729
c)

Fitzmaurice Odell

d before 1762 married Eleanor Spread, daughter of John Spread and Melian Deane and died without issue. Educated TCD. Recorded as living at Castle Constance, Limerick with Thomas in deed of 1746. His widow died in December 1762.
d)

William Odell

.
e)

Catherine Odell

who married Rev William John Bowen and secondly she married in 1732, her first cousin, John Fitzmaurice, of Springfield Castle.79

William Fitzmaurice

born November 1701. The witnesses were Mrs Ponsonby, Mrs AG Crosbie of Ardfert, The Honorable William Fitzmaurice, Charles O'Brien Esq.

Harman

Fitzmaurice

born on 26th May, 1704 at Kilmihill and died on 20th March 1749 at Fowne;s Street, Dublin, aged 44. The witnesses were his aunt Honorable Constance Cox (the wife of Sampson Cox of Ballynoe, Co Limerick whom she married on 11th May 1698, and widow of John Odell and daughter of William Fitzmaurice, 20th Baron of Kerry), Wentworth Harman Esq (of Castle Roe, Co Carlow, son of Sir Thomas Harman of Athy and cousin of Catherine) and Thomas Crosbie Esq of Ardfert. On 17th December 1732 Harman married Margaret, daughter of Gamaliel FitzGerald of Cloghready, Co Tipperary. She was born 1714 and succeeded Harman but died before 1769. Gamaliel conveyed the lands of Cloghready, Coolnadown and Farranaghcrony on their marriage. (ref: Fitzmaurice vs Sadlier 1846 Chancery)

William Fitzmaurice

born 1st January 1706. The witnesses were the Bishop of Meath, The Knight of Kerry, William Crosbie.

Raymond Fitzmaurice

born 20th July - Date?. The witnesses were Honorable Raymond Fitzmaurice and Thomas Jones.

4. Hon Constance Fitzmaurice Married firstly John Odell, son of Major John Odell and Elizabeth Cane in 1693 a) William Odell who married Brudenell and had issue Charles Odell. b) John Odell b 1697 and d 1725. He married his cousin Anne Fitzmaurice, daughter of Captain Hon James and Catherine Harman on 2nd December 1720.

Hon Constance Fitzmaurice married secondly Sampson Cox of Ballynoe at Ballingarry, Co Limerick, the son of William Cox and Charlotte Sampson on 11th May 1698. Robert Cox was granted the lands of Ballynoe by patent dated 28th Sept 1637. He married Mary, Daughter of Right Hon Sir Thomas Standish of Bruffe and left a son William who had two sons, Sampson (heir) and Robert.

Sampson was buried at Ballingarry on 10th October, 1734. Had issue five sons and five daughters. Amongst the issue were:-

a) Mary Cox, bpt 21st March, 1699 (Ballingarry).

b) William Cox, b 1701 - No entry in Ballingarry register. Married 13th March, 1727 Margaret daughter of Hugh Hutchinson Esq of Bantry and d Oct 1762 leaving issue. Hugh, Emanuel, Samuel, Robert (Military Officer), William (RN), Constantia who m Richard Stephenson, Frances who m Samuel Adams, Deborah who m Richard Lane Esq of Ballyscanlan, Co Limerick. The eldest son Hugh bpt 31 Dec 1730 m 1757 Elizabeth, daughter and co heir of John Vowell of Springfort and had issue: Vowell, William, Hugh, John, Sampson, Robert and three daughters. Hugh died 1783.

c) Frances Cox, bpt 24th October 1702 (Ballingarry).

d) John Cox, bpt 20th January, 1703 (Ballingarry). Burial Ballingarry 2nd June 1707

e) Margery Cox, bpt 8th April, 1705 (Ballingarry). Married John Gabbett Esq of Limerick

f) Robert Cox, bpt 21st May, 1706 (Ballingarry). Burial Ballingarry 8th April, 1708

g) Deborah Cox, bpt 18th May, 1708, (Ballingarry). Burial Ballingarry 11th April 1709

h) Catherine Cox, bpt 13th August, 1710 (Ballingarry). Married Jeremish Jackson Esq of Fanningstown.

A further son William was buried on 1st June 1700 with no baptism recorded in Ballingarry.

5. Hon Honora Fitzmaurice married Sir William Piers, 2nd Bart and had issue:

a) William Piers who married Elizabeth Croker, daughter of Edward Croker of Rawleighstown, Co Limerick and had issue:

b) Sir Henry Piers, 3rd Bt b 1678 and d 14 Mar 1733. He married firstly Jane Pigott, d of John Pigott and Gertrude Southwell, the daughter of Sir Thomas Southwell, 1st Bat and Elizabeth Starkey. They had issue Sir John Piers, 4th Bart who died 14 Feb 1746 and Lewis Piers. He married secondly Hon Katherine Barry, d of Richard Barry, 2nd Baron Barry of Santry and Elizabeth Jenery on 8th Dec 1729. He died 14th March 1733.